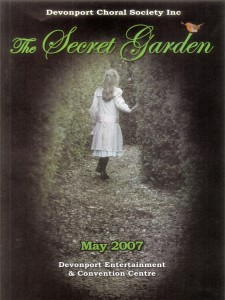 May – June 2007
Director: Denise Sam
Musical Director: Petrina Hingston
In the musical The Secret Garden, as in the classic children's book, 10 year old Mary Lennox awakens one morning in India to discover that her parents and all in the surrounding compound of English residents have been killed by a cholera epidemic. Soon she is being swept along, without explanation, to her uncle's mansion in Yorkshire to be raised by a stern housekeeper who finds her spoiled and unruly. Her only living relatives since the death of her Aunt Lily, ten years ago, are her uncles Archibald and Dr. Neville Craven. Both men are still too wrapped up in their own grief at Lily's death to notice her and Mary is left to wander on her own much of the time, she finds a locked gate. Although she is persistent in questioning the servant girl Martha she has befriended, Mary cannot find the secret to the locked garden.
Soon Mary takes matters into her own hands and she uncovers a long lost key to the garden and also a closed door in the mansion that houses her invalid cousin Colin. Helping Colin discover that he is not as ill as people believe him to be, Mary's personality undergoes a dramatic change. With the help of Martha and Martha's brother Dickon, she and Colin untangle the secret of her Aunt Lily's death and Colin's birth, and together they nurse the long neglected garden back to full bloom.
Featuring Andrea Hendrey (Mary), Brett Budgeon (Archibald Craven), Derrick McPhie (Neville Craven), Harrison Osbourne (Colin), Carolyn Harris (Lily), Carina Cooper (Mrs Medlock), Amelia Higgs (Martha), Tim McLaren (Dickon) & Guy Carey (Ben Weatherstaff) as well as a haunting host of ghosts and dreamers.