MEDIA RELEASE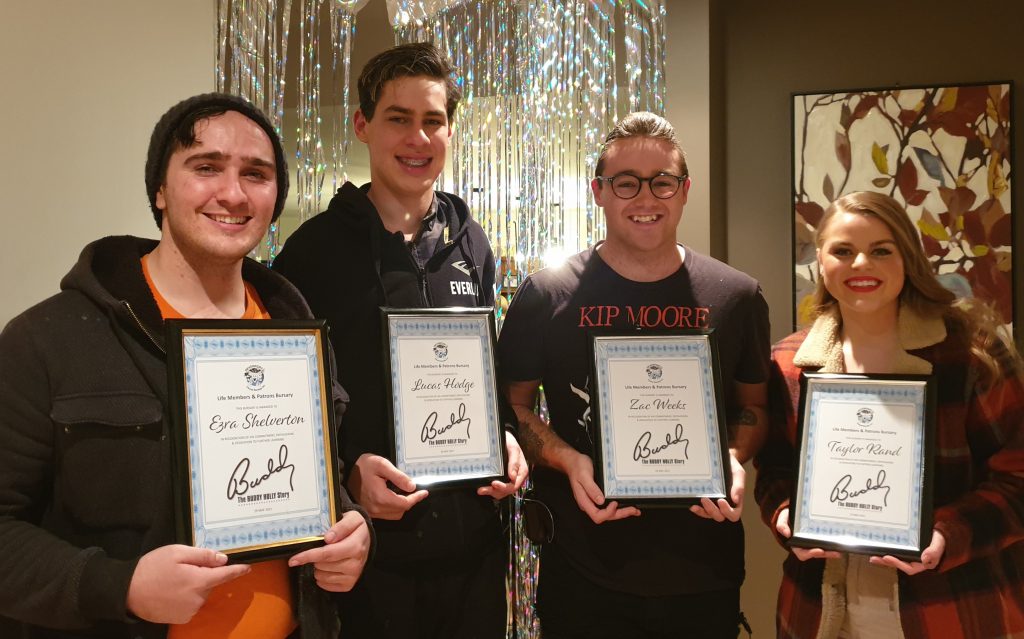 The Devonport Choral Society has just enjoyed a hugely successful season of Buddy: The Buddy Holly Story at the paranaple arts centre, with the addition of a performance to the initial 10 show run, and full houses across the board.
At the closing night celebrations with cast, band and crew, Director of Buddy, Sid Sidebottom, and President of the Society, Maree Brodzinski presented the Life Members and Patrons Bursary. "The generous DCS Life Member Bursaries recognise outstanding contributions to a production and are granted to further the recipients' skills and interests in theatre and the Arts. Past recipients have gone on to attain professional qualifications and roles in acting, singing, musicianship, composing, and theatre production. The Coast has a long tradition of nurturing musical theatre and these bursaries help to encourage and reinforce this important regional cultural trend", said Mr Sidebottom.
"This year, because a Bursary was not awarded in 2020, we were able to offer four Bursaries, going to some very deserving cast members", said Ms Brodzinski. Ezra Shelverton, who played Buddy Holly in the show, received the major award, with Lucas Hodge, Zac Weeks, and Taylor Rand also receiving recognition for their contributions.
Mr Sidebottom said of the recipients, "These four talented, first-rate young adults who, along with their fellow singers and musicians, shared special chemistry on stage to create a very special Buddy: The Buddy Holly Story."
"We are now turning our attention to future projects including our major show for next year, Disney's Freaky Friday", said Ms Brodzinski. "Buddy will certainly be a hard act to follow, but we know we have the talent in our community and a strong team to make this Tasmanian premiere another smash hit. Audition announcements will be made after the Society's September AGM and work has already begun behind the scenes."