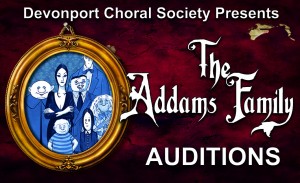 An information session for those wishing to audition for Devonport Choral Society's 2016 production of THE ADDAMS FAMILY will be held at Forth Primary School Performing Arts Centre, Wilmot Road on Sunday 25 October.  The session will start at 2pm.
The information session will be a great opportunity to meet the Production Team, find out more about the show and get some tips on what the Team will be looking for at auditions.
The production will be directed by Sid Sidebottom with musical direction by David Turner, vocal direction by Shayne Lowe, and choreography by Elizabeth Viney.
Anyone thinking of auditioning or wishing to find out more should attend.  Nominated cast to be 15 years and older.
No bookings for auditions will be taken prior to the information session and additional information is not available until then.  Auditions will be held 13 – 15 November at the same venue. Auditions are by appointment only.
Rehearsals will commence in mid-January.
THE ADDAMS FAMILY will be performed at the Devonport Entertainment & Convention Centre 13 – 28 May, 2016.