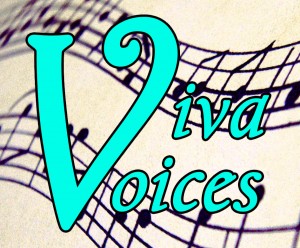 In October we are holding a fabulous series of workshops and concerts as part of our choral festival Viva Voices. We are really excited to have workshops hosted by the internationally reknowned and ARIA award winner Kavisha Mazella, acclaimed Australian composer Mark Puddy, Hobart choral director Jane Christie-Johnston and percussion wizard Bruce Innocent.
Details of these workshops and the necessary registration form can be downloaded here. You will need Adobe Acrobat or a similar PDF reader to read and print this brochure.
We are also staging several concerts throughout the weekend. See details below.
Viva Voices Concert Series
presented by Devonport Choral Society Inc
Classic Viva Voices
Saturday 30 October 5pm – 7pm
St John's Anglican Church, Fenton Street
$10 Adult, $8 Concession, $30 Family (2A+2C)
Viva Voices Showcase
Saturday 30 October 8pm – 10pm
Devonport Entertainment Centre, Rooke Street
$15 Adult, $12 Concession, $35 Family (2A+2C)
Viva Contemporary Voices
Sunday 31 October 5pm – 7pm
Devonport High School, William Street
$10 Adult, $8 Concession, $30 Family (2A+2C)
Concert bookings at:
Face Bar
22 Stewart Street, Devonport
Ph. 6424 5253