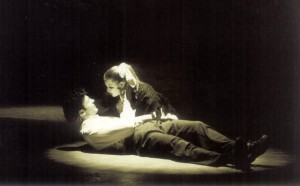 May-June 1998
West Side Story is one of the great musical classics. it brought an inprecedented energy to the stage whilst using a Shakespearian plot, a dazzling score, and a totally new style of dance. The original Broadway run opened in 1957 but gained its greatest recognition after the release of the 1961 movie which won 10 Acedemy Awards, including Best Picture. Since then it has been revived many times throughout the world. The Devonport Choral Society's production of West Side Story in 1998 was the first time that this musical had been performed by an adult cast on the North West Coast.
Director – Sid Sidebottom
Musical Director –  Jill Colgrave
Choreographer –  Shane Wolfe
Featuring Jerome Hillier, Emma-Louise Cukier, Shane Wolfe, Kathleen Ives-Diprose, Mark Dickinson, Rod Viney, Chris Pidd, Steve Allen & Guy Carey as well as gangs of streetwise Jets and Sharks from across the North West coast.