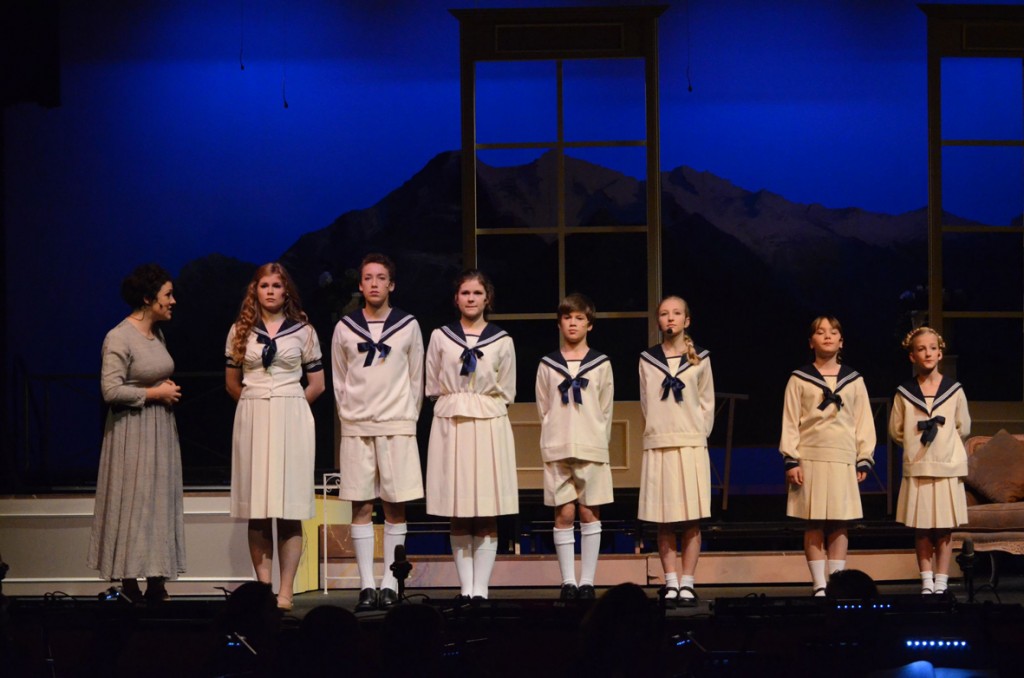 Loved by adults and children of all ages, Rodgers and Hammerstein's final musical collaboration features such well-known favourites as Climb Every Mountain, Edelweiss, My Favourite Things, Do-Re-Mi and of course, The Sound of Music.
The DCS 2013 production featured a sublime local cast.  Roles of the Von Trapp children were doubled to give more opportunites to talented young performers.
An additional performance was added to the 8 show season as the last six shows sold out after opening weekend.  Audiences were in excess of 3500!
Director – Emil Djakic
Musical Director – Dominique Baker
Vocal Director – Brett Budgeon
Choreographer – Elizabeth Viney
Producer – Maree Brodzinski
Set Designer – Jennifer Slater
Cast:
Maria                                        Allison Davies
Captain von Trapp           Brett Budgeon
Max Detweiller                  John Lee-Archer
Elsa Schraeder                  Laura Budgeon
Liesl                                          Elora Woods
Friedrich                                Gus Viney / Clancy Leary
Louisa                                     Anaïs Woods / Abigail Piscioneri
Kurt                                         Theo Viney / Thomas Abblitt
Brigitta                                 Ellie Rose / Tenika French
Marta                                      Sîan Davies Ranson / Frances O'Rourke
Gretl                                       Sophie Graham-Jones / Grace Johnstone    
Mother Abbess                  Maree Brodzinski
Sister Berthe                      Jennifer Slater
Sister Margaretta            Melanie Woods
Sister Sophia                      Caitlin Hendrey
Franz                                              Rodney O'Rourke
Frau Schmidt                            Elizabeth Viney
Herr Zeller                                  Rod Viney
Rolf Gruber                                Glenn Broadby
Baron Elberfeld                       Michael Hendrey
Ursula/Nun                                  Olivia Pizzirani-Rand
Admiral von Schreiber        Mark Denny
Priest                                              David Lee
Nuns
Pip Ray, Miriam Hingston, Jane Foote, Rebecca Reynolds, Nicki Squibb, Erin Travers, Alison Darbyshire, Gráinne Hendrey, Merran Dyer, Olivia Brodzinski, Glenys Lee-Archer, Hannah Lee-Archer, Karen Rose, Gloria Benson and Belinda Donovan.
Photos courtesy of Jake Jacobson