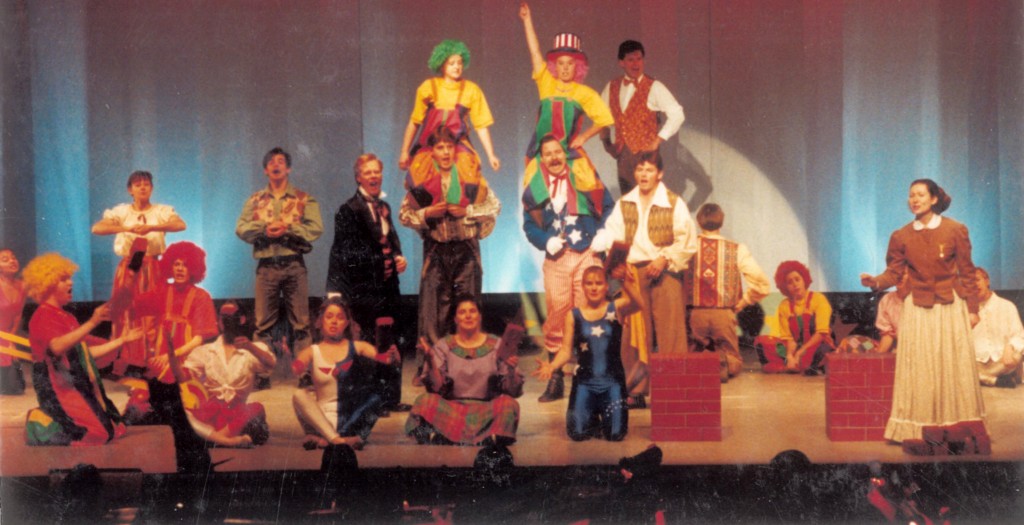 July 1994
The musical Barnum traces the career of phineas Taylor Barnum from 1835 – 1881 when he joined James A Bailey to form the circus which was justly called "The Greatest Show on Earth."  Barnum opened on Broadway on April 30, 1980 and closed on May 16, 1982 after 854 performances and 26 previews where it won several Tony awards. The show went on to great success in London's West End, featuring Michael Crawford in the leading role. Our DCS production was a Tasmanian Premiere and was lovingly put together 'one brick at a time' by the talented cast and crew!
Director – Sid Sidebottom
Musical Director – Christine Watson
Choreographer – Shane Wolfe
Featuring Chris Pidd, Keren Smithies, Shane Wolfe,  Amy Weeks, Clinton Griffiths and Lynda Beaton as well as a fine troupe of acrobats, jugglers and clowns from all over the NW Coast.